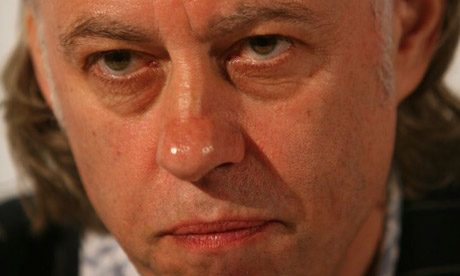 Over in the U.K., former rocker Bob Geldof isn't shying away from sporting his pro-nuclear energy credentials at a blog sponsored by Lexus on hybrid vehicles. From The Guardian:

Luxury car maker Lexus may have got more than it bargained for when it signed up Bob Geldof to take part in a blog debate about the green credentials of its hybrid models.

Geldof, as well as talking about hybrid cars, airs his views on climate change, branding renewable energy initiatives such as wind farms "Mickey Mouse" and insisting "to really help the planet, we have to go nuclear, fast".

[...]

On the wider question of making an impact on climate change he said: "We may mess around with wind and waves and other renewable energy sources, trying to make them sustainable, but they're not. They're Mickey Mouse ... but to really help the planet, we have to go nuclear, fast."

Geldof added: "In the UK, we'll soon have to scramble for more nuclear power. On this issue, I don't care what anyone says: we're going to go with it, big time."
After taking a look at Geldof's entries at the blog, it's clear he's done plenty of reading on his own -- including a bit of time reviewing the work of
James Lovelock
. For his entry where he endorses nuclear energy, click
here
. For all of his entries, click
here
. For the main page of the Lexus blog, click
here
.